European Countries Putting the UK's Paternity Leave to Shame

We conducted research into the UK's paternity leave and pay, compared to other countries across the world.
As little as 2% of new parents in the UK take advantage of shared parental leave
New fathers can choose to take one or two consecutive weeks off.
28 countries have better paternity leave and pay schemes than the UK.
Swedish fathers get a huge 80 additional days with their new-born compared to those in the UK.
Iceland and Slovenia receive 50 days more than British dads.
The situation in the UK
Currently, new full-time working fathers in the UK receive two working weeks (10 days) paternity leave, with either Statutory Pay of £145.18 a week or 90% of their average weekly earnings (whichever is lower). Tax and National Insurance is deducted from this figure.
Shared parental leave was introduced in the UK in 2015 giving parents the right to split up to 52 weeks between them. However, research shows that just 2% of couples take up this option.
This may be because men are still often the higher earners in a relationship, and cutting their earnings to just £145.18 per week may just not be a feasible way of doing things.
How it looks in other countries
First4Lawyers conducted research to see how other countries compare to the UK.
We looked at how many actually offer leave specifically for dads (paternity leave), and how much time they get with their new-born child.
28 countries world-wide have better paternity leave and pay schemes than the UK, with the majority offering 100% paid leave rather than just 80%.
Several countries offer leave periods that dwarf the UK's current two week policy.
Sweden
Sweden is among the most generous countries when it comes to parental leave.  Parents can share paid leave of 480 days (16 months) on a 'use it or lose it' basis.  
Unbelievably, the parental days don't expire until the child is eight years old!
Although the majority of parental leave (72.4%) is taken by the mother in Sweden, leaving dads taking only 27.6% - it does represent an increase of almost a third over the last decade.
Iceland
Fathers in Iceland receive a total of 12 weeks' paternity leave specifically for new dads at 80% pay. That's 50 days more than those living in the UK. Slovenia has a similar scheme of 12 weeks' paternity leave, with two of those weeks set at 100% paid and then the remaining at 80%.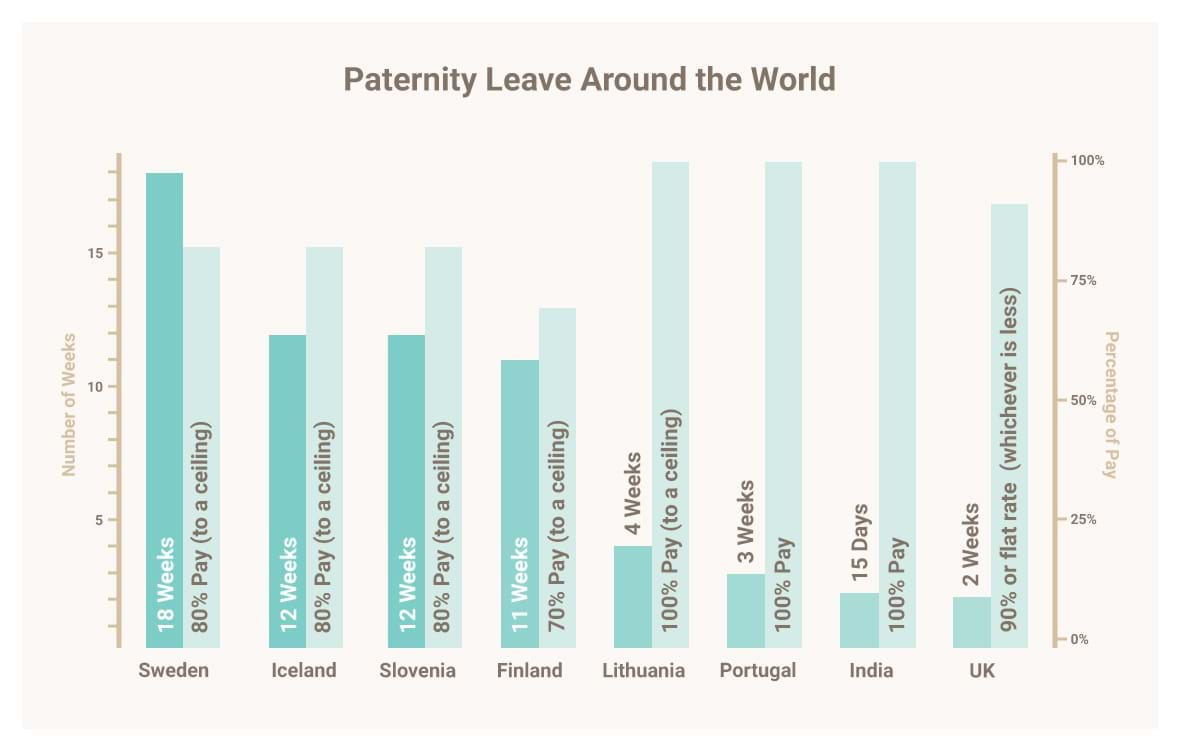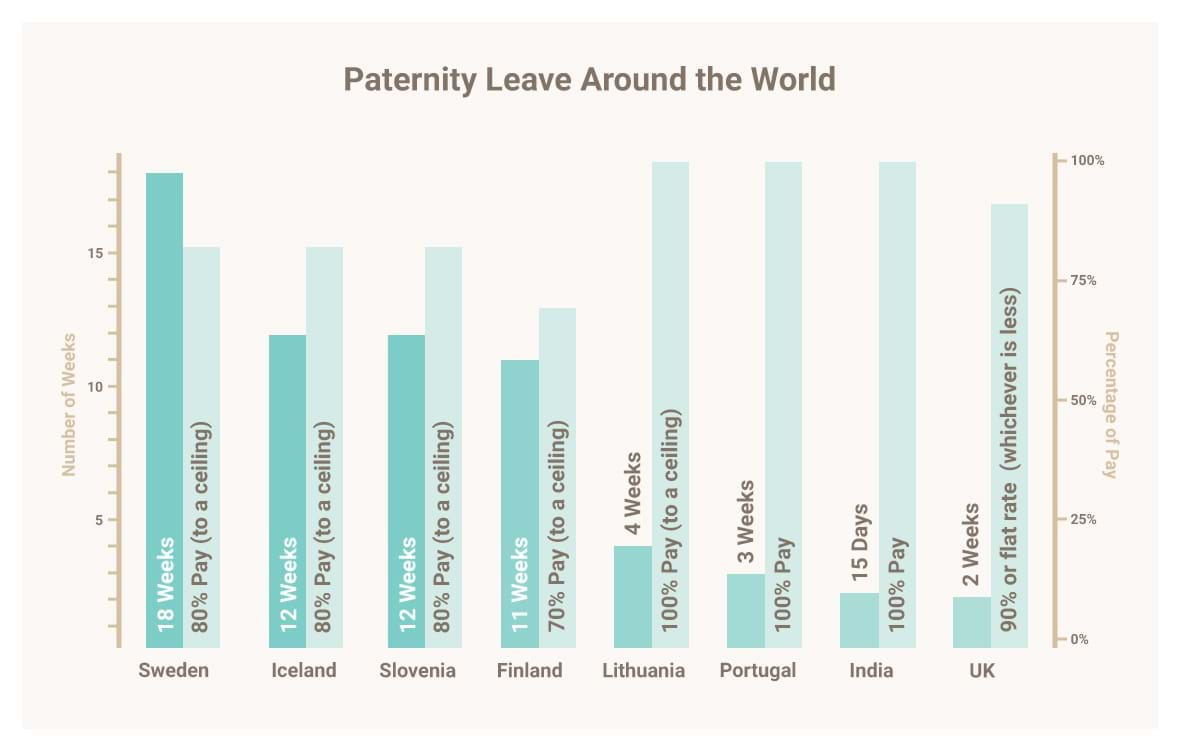 Lithuania
Lithuania offers a scheme of 30 days leave to new fathers, from the date of birth until the child is one month old, at 100% pay. That's 20 more days spent with their children than fathers in the UK.
USA
Shockingly, the US doesn't offer any guaranteed paid leave for new parents, with both mums and dads relying on workplace policies to offer parental leave and pay schemes.
Workers at tech brands such as Netflix, Facebook and Twitter are the lucky few who are given time and pay to spend with their new-born babies, but not all Americans are so lucky.
Dads have a 'huge part to play'
Dr Melanie Smart at Chichester Child Psychology says: "Paternal attachment to baby (bonding) is often forgotten or side-lined with mums often taking the main care giver role and therefore being seen as the primary attachment figure for a new-born. Yet dads have a huge role to play in their family's lives at this point and onwards.
"An understanding of the world, their caregivers and themselves is built by baby in those first few days and months. Babies can recognise their father's voice from inside the womb, will turn to his voice when born and will seek out his face, sounds and smells. Dads need to be involved in all aspects of care in those first months, not just to help mum out but to build a lasting bond. Two involved care givers boosts a child's physical and mental health, acts as a protective factor in the transition to parenthood and the couple's mental health, and can enhance the parental relationship.
"Dads have been found to be more positively challenging, encouraging risk taking and problem solving and fostering independence in children, which are core life skills. In turn, being a hands-on dad also helps men reduce their stress response (cortisol), enhances nurturing hormones (oxytocin) and can therefore protect their mental health and well-being overall."
According to our research, a total of 43 countries across the world do not offer paternity leave to new dads. As data shows that parental leave is nearly always used solely by the mother, this is an issue for new dads trying to develop a strong bond during the early days of their child being born.
Although increasing the time spent with the child is extremely important, having that time off paid is essential for fathers in the UK. Many feel forced to return to work as most families simply can't afford the main breadwinner in the family to bring home such a reduced rate of pay.
Andrew Cullwick, spokesperson at First4lawyers says: "The UK's paternity pay should match the majority of Europe's at 100% paid. This would give families the peace of mind that they can enjoy their time off with their newborn with no financial impact. In relation to paternity leave, two weeks at 80% pay is not enough. A small increase to four weeks at 100% pay would help new dads not only support the mothers but give them the time needed to build a lasting bond with their child."
The figures
UK maternity: 52 weeks total (90% 6 weeks, flat rate 32 weeks, 14 unpaid)
UK paternity: 2 weeks total (90% or flat rate – whichever is less)
Shared parental leave: You can share up to 50 weeks of leave and up to 37 weeks of statutory shared parental pay between you.
Countries with better paternity leave and pay than the UK:
Belgium: 2 weeks, 100% for 3 days, 82% remainder
Benin: 2 weeks, 100%
Burkina Faso: 2 weeks, 100%
Camaroon: 2 weeks, 100%
Central African Republic: 2 weeks, 100%
Chad: 2 weeks, 100%
Comoros: 2 weeks, 100%
Congo: 2 weeks, 100%
Croatia: 2 weeks, 100%
Denmark: 2 weeks, 100%
Ecuador: 2 weeks, 100%
Estonia: 2 weeks, 100%
Finland: 11 weeks, 70% (to a ceiling)
France: 2+ weeks, 100% (to a ceiling)
Gabon: 2 weeks, 100%
Iceland: 12 weeks, 80% (to a ceiling)
India: Up to 15 days, 100%
Iran: 2 weeks, 100%
Kenya: 2 weeks, 100%
Lithuania: 4 weeks, 100% (to a ceiling)
Luxembourg: 2 weeks, 100%
Madagascar: 2 weeks, 100%
Mauritania: 2 weeks, 100%
Poland: 2 weeks, 100%
Portugal: 3 weeks, 100%
Slovenia: 12 weeks, 100% for 2 weeks, flat rate remainder
Sweden: 12 weeks, 80% (to a ceiling)
Togo: 2 weeks, 100%
Venezuela: 2 weeks, 100%

Countries that don't offer paid paternity leave:
Angola
Andorra
Botswana
Cambodia
Cameroon
Canada
China
Cyprus
Egypt
Germany
India
Iran
Iraq
Ivory Coast
Libya
Malaysia
Malta
Monaco
Namibia
Nigeria
Oman
Pakistan
Russian Federation
Sudan
Switzerland
Syria
Thailand
Turkey
Vietnam
UAE
Ukraine
USA
Yemen
Zambia