How to Take the Council to Court After an Accident or Injury

When you've had an accident or injury as the result of negligence by the council, it can be confusing knowing how to proceed to get the justice you deserve.
What is a claim against the council?
Whenever you are in a place where there is a responsibility for the council to keep it safe, you may have a claim if this responsibility is neglected and you are injured as a result. Some examples of claims against the council include:
Uneven paving stones that lead to an accident
Excessively deep potholes (more than an inch deep) that have caused an injury or accident
Accidents inside council-owned properties e.g. businesses or housing
Poorly maintained public services leading to injury
Defective equipment in play parks causing an accident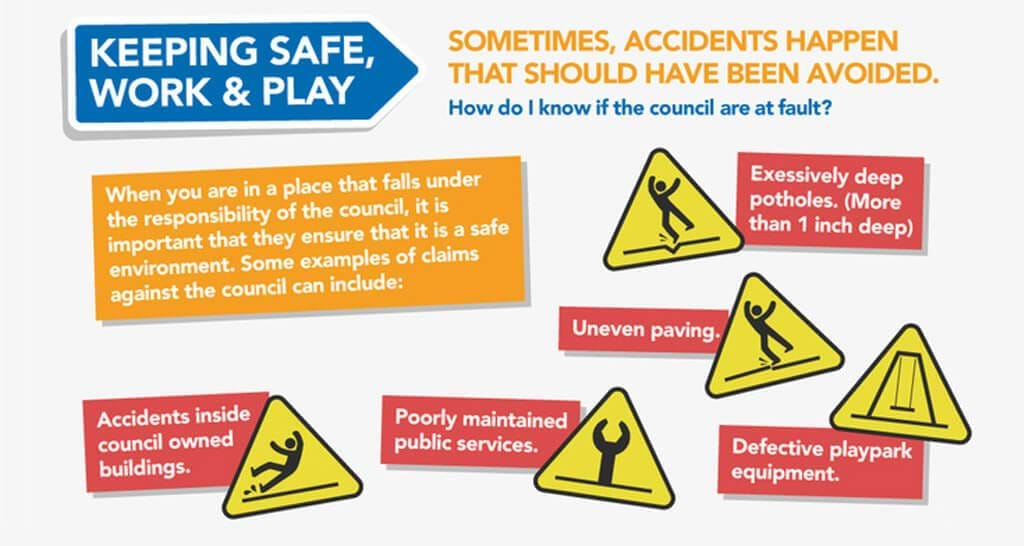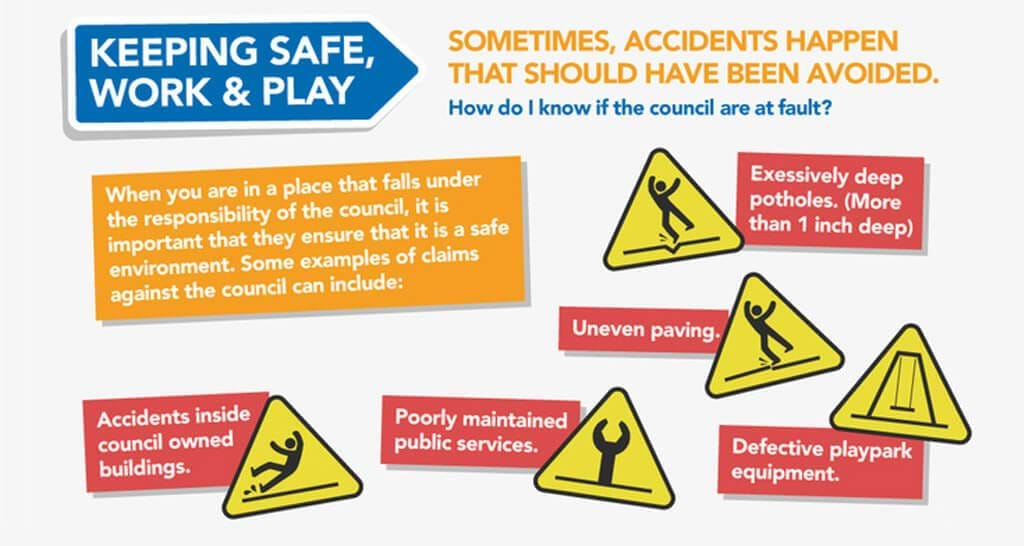 How do I know if the council are responsible?
Councils are responsible for the maintenance of public services, walkways and also for properties owned by them.
They have a duty of care to prevent accidents and injuries occurring on their properties and services. When a defect that they could reasonably be held responsible for causes an accident, the council are liable for these injuries.
Under the Highways Act 1980 the council/highway authority must prove that they have 'taken all reasonable care by having a proper system of inspection and repairs'.
If a defect has been there for a considerable amount of time and they haven't done anything about it, this may not be considered 'reasonable'. This also applies if the defect was reported to them, it must be within a reasonable period of time.
Different councils work in different ways, and these varying authorities may differ considerably in their inspections of roads, pavements etc. but it must all be done within a 'reasonable' time frame.
This will of course vary depending on whether it's a town, city or a village, as places with larger footfall are much more likely to be regularly inspected. It also of course depends on the budget constraints of the council involved on how regularly they inspect. This does not of course exclude any injury caused by their lack of inspections.
Before you start a claim against the council
There are some things you should have in mind when making a claim against the council. It is important to:
Be aware of the time frame:
Claims should usually be made within three years, but the sooner you make a claim the better, as the evidence will still be there and it will still be fresh in the memories of victims.
Collect evidence:
The more evidence the better chance of helping your claim. Photographs especially are important, but also witnesses and an official report of the issue to the council can be beneficial to the eventual outcome of your claim.
First4Lawyers are here to help you with your claim, and we will make the process as easy as possible for you.
How long does a claim against the council take?
Each case is unique. Claims against the council can sometimes be lengthy and difficult, depending on the evidence available. This is why it's important to collect as much information as you can, as soon as possible.
Your solicitor should be able to give you a more accurate time frame on how long your claim will take. If, during the period of your claim you are suffering financially, your solicitor may be able to negotiate an interim payment (a part payment of your claim) whilst your case is ongoing.
How much money will I get?
Claims vary considerably, and the circumstances and extent of your injuries will dictate your final settlement. Whilst it's hard to pinpoint a certain figure, our compensation calculator will help you assess your possible outcome based on the location of your injury/injuries.
How do I know whether I have a claim?
First4Lawyers' claims advisors are specially trained to assess your claim and will talk you through the details at a time convenient for you. Just get in touch for a free, no-obligation assessment.
Note: First4Lawyers offers this information as guidance, not advice. Before taking any action, you should seek professional assistance tailored to your personal circumstances and not rely on First4Lawyers' online information alone.