Personal Law,
Hints, Tips & Research
Valentine's Day - is it better to be single?
Reading time: 3 mins, 31 secs
82% of Brits aren't bothered that they will be spending Valentine's alone
1 in 3 singletons say they would rather stay single
14% of married couples say they envy their single friends
37% of married couples believe being single to be more fun
Married couples go out no more than once a year
46% of singletons say the best way to meet someone is through a dating app/online.
82% of singletons aren't bothered they're going to be alone on the international day of love. In fact, 1 in 3 singletons say they would prefer to be single labelling it more fun!
That's right, being single on what is supposed to be the most romantic day of the year isn't so bad after all. Despite 28% saying they would like someone to spoon from time to time, most singletons in Britain said they love being single and would like it to stay that way according to research by First4Lawyers.
The family law experts conducted a survey of 2000 Brits to find out not only how singletons feel being alone on the day of romance, but also what it's really like to be in a relationship. Valentine's Day is usually a day full of roses and romance but for many couples this isn't the case.
1 in 3 couples think it's more fun to be single on Valentine's Day
The survey of 2000 Brits reveals that 1 in 3 (33%) couples think it's more fun to be single on Valentine's Day. 14% of those in a relationship say they envy their single friends, with more than 1 in 4 labelling their relationship stressful.
36% they would like to be single to save money with many labelling Valentine's a waste of money and 28% would prefer to go out with their friends.
The study suggested that getting married or settling down with a partner can seriously affect your social life. Those in a relationship or married say they only see their friends a couple of times a month and don't go out partying any more than once a year.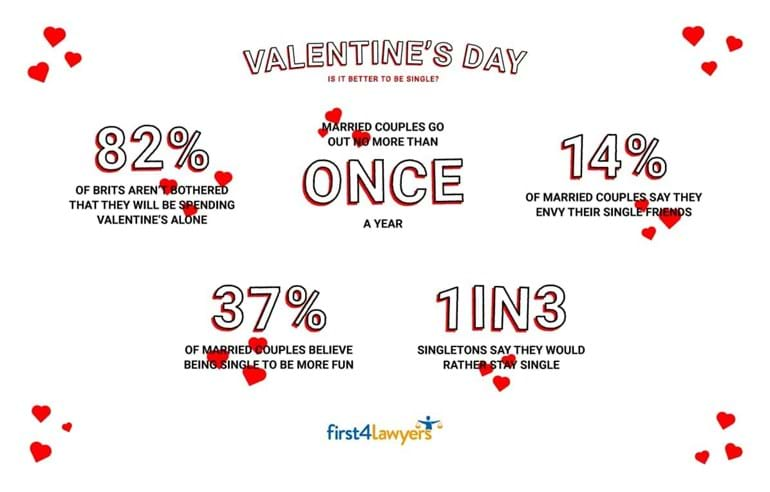 Valentine's Day often makes us imagine restaurants crammed with candlelit tables and bottles of red wine. And while the survey revealed that those who are in a relationship do eat out more than single people, 57% say their partners have stopped offering to pay for dates and they split the cost of their special outings.
Being single or divorced on Valentine's day
1 in 3 singletons say they would rather be single on Valentines than in a relationship. 55% of those currently single say they are content being on their own but 28% wouldn't mind someone to spoon whilst watching Netflix.
31% of divorcees say they love being single and want it to stay that way.
Despite this, 25% of singletons will be looking for someone new.
Though the first Valentine's Day as a new singleton can be a daunting prospect, you can face the 14thwith a fresh perspective. Whether you've got plans with a partner, your friends, or a pizza and your favourite box set, just remember you're not alone being alone this Valentine's Day.